Sonoran Desert Region
2015 Legislation Introduced to Protect Sonoran Desert Heritage Region
Bill would protect wildlife corridors, West Valley, and Arizona's Military Economy
The Arizona Sonoran Desert Heritage Act (H.R. 2926) was introduced into the U.S. House of Representatives on June 25, 2015! The bill is based on the Sonoran Desert Heritage Conservation Plan—focused on conserving an array of intact Sonoran Desert, home to the largest population of desert bighorn sheep in the country—with over seven years of diligent work by the Arizona Wilderness Coalition and community partners.
Saguaro-studded hills and rugged mountains stretch from the Harquahala and Belmont Mountains to the remote wilderness of the Sonoran Desert National Monument, forming a nearly one million-acre arc of magnificent wildlife habitat and recreational areas within western Maricopa County.
The Sand Tank, Gila Bend, and Harquahala Mountains—among others—are iconic places in Arizona's world famous Sonoran Desert. Filled with an unprecedented number of cultural and archaeological resources, the Sonoran Desert also offers an awe-inspiring natural environment. Arizona's history has been written in remnants of the Butterfield-Overland Trail, petroglyph-lined canyons along the Gila River, the historic Anza Trail, and many other historically significant places throughout the Sonoran Desert region.
Why Legislation is Needed
The West Valley of Maricopa County currently hosts 21% of Phoenix's population, which will explode to 34% by 2030 as a key segment of one of the nation's fastest growing regions. This surge has enormous implications for the scenic, biological, and cultural integrity of public lands at its fringe, including encroachment threats to Luke Air Force Base and the Barry M. Goldwater Range. A report issued in 2013by AWC and the Sonoran Institute highlights why conservation of lands outside these key military installations is crucial to safeguarding their viability into the future. New information from a 2015 report by the Sonoran Institute underscores the critical importance of preserving public lands adjacent to military facilities.
Watch a PBS video, "This American Land," that describes the critical need for conservation in this part of western Maricopa County.
A vision for land and water conservation must match the West Valley's ambitious growth if we are to retain our natural and cultural heritage and sustain the $9 billion military economy created by Luke Air Force Base and the 8 other military installations that rely on the Barry M. Goldwater Range. The proposed Arizona Sonoran Desert Heritage Act is the quintessential component of conserving the land, water, wildlife, recreational opportunities, and cultural resources in Arizona's western Sonoran Desert.
The Plan of Action
The legislation creates an array of protective designations, all on existing public lands managed by the Bureau of Land Management (BLM). Wilderness designation for appropriate areas is the highest level of protection for federal lands and safeguards premier wildlife habitat for native plants and animals. The new wilderness designations are nested within two new National Conservation Area(s), which provide a broader level of protection—allowing for roads, interpretative areas, mountain biking, motorized recreation, and other more intensive uses.
Species Diversity
The Sonoran Desert ecosystem of central Arizona—rapidly disappearing because of development—is found nowhere else in the world. Rugged mountains and gentle bajadas support Sonoran pronghorn, mule deer, and the prized desert bighorn sheep.
Thick riparian vegetation of willows and cottonwoods found near canyons and river corridors nurtures more than 300 bird species, such as wintering bald eagles, Zone-tailed hawks, and a plethora of migrating denizens.
Recreational Opportunities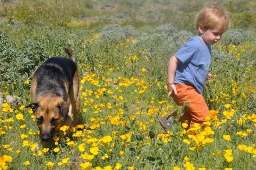 The Sonoran desert can be a wonderful and dangerous place at all times of year, which is why many people find it so interesting to travel here. In the winter people can enjoy mild daytime temperatures for hiking, backpacking, birding, climbing, and photography. Nighttime temperatures can hover around freezing.
Two of the most beautiful times in the Sonoran Desert are after the spring rains and during the summer monsoons.
After the spring rains, thousands of colorful wildflowers carpet the desert floor. During the summer monsoons, unique desert amphibians and reptiles awaken to eat and breed. Many of the reptiles that can be found are poisonous, such as rattlesnakes. Watch your step and listen well!
Get Involved
For more information regarding the Sonoran Desert Heritage Act and public lands around metropolitan Phoenix, or to get involved with our work in this region, please contact us at (520) 326-4300.
Please also visit the campaign's website at www.sonoranheritage.org!
Additional Resources
Press Release (July 6, 2015) "Encroachments "creeping up" on AZ military operations" (Sonoran Institute)
Public News Service (June 30, 2015) "Grijalva: Bills Seek to Protect Public Lands, Culture, Economy"
Press Release (June 26, 2015) "Grijalva Reintroduces Package of Bills that Preserve, Protect and Restore Arizona Public Land, Citing Economic and Cultural Benefits" (Natural Resources Committee)
Report (June 23, 2015) Mutual Benefit: Preserving Arizona's Military Mission and the Value of Publicly-Owned Lands (Sonoran Institute)