October 1, 2013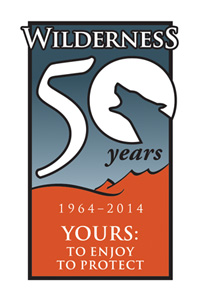 Statewide Photo Contest Kicks Off Arizona's Celebration of the 50th Anniversary
of the Wilderness Act
Activities and events encourage Arizonans to 'celebrate your wild place!'
Contacts:
Arizona Highways Photo Workshops: Roberta Lites, Executive Director, 602-712-2004
Arizona Highways: Robert Stieve, Editor, 602-712-2025
Arizona Wilderness Coalition: Kate Mackay, Deputy Director, 602-571-2603
The Wilderness Society: Mike Quigley, Arizona Representative, 520-334-8741
PHOENIX — On the heels of National Public Lands Day, Arizona Highways Photo Workshops—a nonprofit educational foundation supporting Arizona Highways magazine—today launches a statewide photo contest marking the 50th anniversary of passage of the Wilderness Act, a landmark law that has helped protect much of America's greatest wild country over the past five decades. The contest, in partnership with the Arizona Wilderness Coalition and The Wilderness Society, kicks off a year-long schedule of planned festivities around Arizona extending throughout 2014—from wilderness hikes and volunteer trips, a crowd-sourced video project, essay, art, and photography exhibits, and special speaking engagements to help connect Arizonans with their wilderness legacy. The Wilderness Act was signed into law by President Lyndon Johnson on September 3, 1964.
"Arizona Highways Photo Workshops is pleased to host the 'Celebrate Your Wild Place!' Photo Contest in hopes that everyone from the skilled photographer to the casual amateur, including a special youth division ages 13-17, will head out and explore Arizona's beautiful wild places," says Roberta Lites, executive director with the organization based in Phoenix. "This contest is meant to highlight the value that wilderness areas bring to Arizona and the ways in which we can experience them on their own terms."
Contest entrants are encouraged to submit images from the 90 different wilderness areas in Arizona. The entry deadline is December 31, 2013, and offers several categories for submission, including scenic, wildlife, most inspirational moment, and people in wilderness. There will be one grand prize winner—of an Arizona Highways Photo Workshop valued up to $2500—four category winners, one youth award, and 10 honorable mentions.
A statewide online landing page has been created for the contest and other celebration activities, which will eventually become a comprehensive informational hub for citizens to find local hikes and events, join a volunteer project in wilderness, or assist in planning celebratory gatherings in their communities. A national site launched earlier this year helps states find resources and get ideas for carrying out celebrations in their region of the country.
Thanks to the Wilderness Act, Americans have a way to protect their most treasured wild places from degradation and urbanization. This 1964 law created the National Wilderness Preservation System, which today protects nearly 110 million acres of wilderness areas, critical wildlife habitat, and quiet backcountry recreational opportunities across the nation. The Wilderness Act passed the House and Senate with overwhelming bipartisan support.
In Arizona, the Wilderness Act has enabled the creation of 90 different wilderness areas—from craggy mountain gems in the Sonoran Desert, to plunging red rock canyons, forested plateaus, and lush riparian waterways above the Mogollon Rim—all treasured destinations for photographers, tourists, and backcountry enthusiasts alike. Wilderness areas can be enjoyed on most federal public lands, including national parks, national forests, Bureau of Land Management lands, and national wildlife refuges.
"This anniversary is an important chance for us to generate pride and appreciation for our wilderness legacy in Arizona that millions of people travel from all over the world to enjoy," says Kate Mackay, deputy director with the statewide Arizona Wilderness Coalition (AWC). "Because of the efforts of Arizona leaders like Stewart and Mo Udall, Barry Goldwater, John McCain, and many others, we hold a unique place on the national wilderness stage—with places like the Superstition Mountains, Pusch Ridge Wilderness, Aravaipa Canyon, and Fossil Springs to set us apart." Arizona is the only state outside of Alaska to have statewide wilderness bills for both Bureau of Land Management and U.S. Forest Service lands.
"By celebrating the Wilderness Act anniversary in Arizona, we have an opportunity to bring together typically diverse Arizonans around the idea that wild places are the common ground we all share," says Mike Quigley, Arizona representative for The Wilderness Society (TWS) based in Tucson. "Wilderness provides beautiful places to enjoy with our family and friends, outstanding opportunities for traditional hunting and recreation, high quality essential habitat for native species, and economic value to Arizona." The Wilderness Society was founded in 1935 and is the leading American conservation organization working to protect our nation's shared wild lands.
50th celebration planning committees are underway in Prescott, Flagstaff, Tucson, and Phoenix, with involvement and direction from the Sierra Club national and local chapters, federal and state agencies, the Arizona Office of Tourism, academic institutions, local businesses, faith groups, and a growing array of communities. Any interested members of the public are encouraged to join a local committee and help raise awareness about the celebration in his/her part of the state.
*****