July 28, 2011
Swift-Moving Bill Aims to Demolish 10 Years of Protection for Roadless Areas Nationwide
Legislation Puts 1.2 Million Acres of Prime Hunting and Fishing Lands in Arizona at Risk
Contact: Jim Stipe, President, AZ State Council, Trout Unlimited, 602-234-8779
Sam Frank, AWC Central Arizona Director, 928-717-6076
Dave Holloway, White Mountain Conservation League, 928-333-3357
Kelly Burke, Grand Canyon Wildlands Council, 928-606-7870
Phoenix—Outdoor enthusiasts around the country—including sportsmen, mountain bikers, hikers, wildlife watchers, and wilderness advocates—can't make sense of a bill the House and Senate are considering that would reverse protections on more than 50 million acres of the nation's most cherished recreational lands.
In a hearing on Tuesday, House members listened to testimony on Rep. Kevin McCarthy's (R-Calif.) legislation, dubbed the "Wilderness and Roadless Area Release Act (HR 1581)," which seeks to abandon the popular Roadless Area Conservation Rule, an administrative policy that currently protects approximately 1.2 million acres of Arizona's national forests from additional road building and development.
"Arizona's forests are carved up with more than 51,000 miles of existing routes that impact important habitat for myriad species," says Sam Frank, central Arizona director of the Arizona Wilderness Coalition (AWC), a statewide organization that restores and advocates for wilderness lands across the state. "The Coconino National Forest alone has nearly 6,000 miles of roads—that's more than the mileage from San Francisco to New York and back. We don't need laws that enable more destruction on our forests—we need policies based on sound science that support continued protection and enjoyment of our last quiet, wild places." Frank leads AWC's Wilderness Stewardship Program out of Prescott and made recommendations with Flagstaff partner Grand Canyon Wildlands Council for potential new wilderness areas to the Coconino National Forest as part of their forest planning process, now underway.
One exceptional Arizona roadless area that could suffer development and increased motorized uses if H.R. 1581 becomes law is the Hackberry Inventoried Roadless Area (IRA) on the Coconino National Forest, where Towel Peaks vault toward the sky. The Hackberry unit, inventoried by AWC's own staff and volunteers, encompasses more than 17,000 acres and lies snugly between several protected areas: West Clear Creek Wilderness, Fossil Springs Wilderness, Pine Mountain Wilderness, Cedar Bench Wilderness, and Mazatzal Wilderness, making it an ideal unit to help maintain connectivity for wildlife that migrate between different mountain ranges and water sources. The unit is also situated just north of where the Verde and Fossil Creek Wild and Scenic Rivers converge.
"We don't get any more undeveloped wild areas," says Jim Stipe, president of the AZ State Council of Trout Unlimited, "so we have to be very careful with those we have left, especially areas that protect migration routes and river headwaters."
The Roadless Rule, which underwent more than 600 public hearings across the country and stands as one of the most popular rule-makings in the Forest Service's history, is intended to protect forested watersheds from further degradation while also conserving quiet recreation such as hiking, equestrian use, and wildlife watching—activities in Arizona that generate more than $5 billion in revenue to the state, according to a 2011 study by Arizona State University. The roadless rule policy, which is now 10 years old, marks a fiscally responsible response to a backlog of hundreds of millions of dollars worth of road maintenance and public safety improvements.
H.R. 1581 also nullifies Arizona's two remaining Bureau of Land Management (BLM) Wilderness Study Areas, Cactus Plain and Baker Canyon—two units that offer unparalleled solitude and wildlife watching opportunities. The BLM has identified millions of acres of public lands as "Wilderness Study Areas" that qualify for designation as permanent wilderness areas but which have not yet been considered by Congress. For decades, these areas have been protected by law: the Federal Land Policy and Management Act requires the BLM to protect their wilderness qualities until Congress determines whether or not to designate them as wilderness using the Wilderness Act.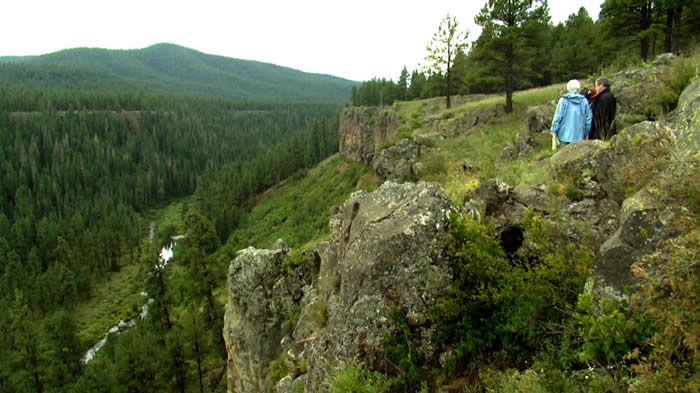 In June, AWC organized a statement from 20 conservation, angler, and mountain-bike groups that urges Arizona's federal lawmakers to oppose H.R. 1581. It states, in part:
"For more than 10 years, Arizonans have lived with and benefited from the 2001 Roadless Rule. For more than 20 years we have enjoyed our state's Wilderness Study Areas. The ecological, recreational, and economic benefits of unroaded areas in Arizona are straightforward and clear. While these areas represent a small fraction of our public lands, they pay large dividends to our state's health and economy. With years of public engagement and support behind them, it is not appropriate to remove protections for these areas in such a unilateral way."
"In protecting roadless areas, the rule preserves our children's legacy of intact wildlands and the wildlife that depends on them," says Kelly Burke, executive director with Flagstaff-based Grand Canyon Wildlands Council. "Without it, our children lose their option to designate these lands through future congressional action, as was intended by the Wilderness Act. This bad bill will take away that public legacy and diminish the richness of nature in America in the thoughtless focus on exploitation of our natural resources for monetary profit."
H.R. 1581 has a companion bill in the Senate (S. 1087), introduced by Senator John Barrasso (R-Wyo.). After Tuesday's hearing, the bill could move to full committee markup later this summer or early fall.
*****