February 23, 2012
Arizona Wilderness Coalition Shows City Teens How Nature Can Nurture
Field trip to wilderness near Phoenix opens eyes and minds to wonders of natural places.
Contacts:
Ian Dowdy/Arizona Wilderness Coalition/ 623-680-5913/ ian@azwild.org
Mia Foster/Boys Hope Girls Hope-AZ/ 602-266-4873/ mfoster@bhgh.org
PHOENIX—It's a growing phenomenon: too many kids without connections to the natural world. On Saturday, February 25th, the Arizona Wilderness Coalition will be leading the Phoenix chapter of Boys Hope-Girls Hope youth on a day-long excursion to Saddle Mountain, a wilderness quality landscape only an hour from downtown Phoenix. The trip will expose these children to the wonders of the Sonoran Desert, sending them on a scavenger hunt for native plants, petroglyph drawings, and vestiges of native wildlife, such as tracks and scat—and at the same time, showing them why these lands are fragile and deserve our respect.
"I was fortunate as a child to experience hiking and camping in the wilds of Montana and in the brushy backcountry of the Sonoran Desert," says Ian Dowdy, conservation associate with the Arizona Wilderness Coalition. "Taking these kids out of the concrete jungle and opening their eyes to the wonder of the desert is central to the mission of our organization—to inspire the public to take care of our wildest places and recognize their role in providing our clean air and water, wildlife habitat, and places to recreate with family and friends."
Boys Hope Girls Hope profoundly impacts the lives of low-income, at-risk, academically capable and motivated children ages 11 to 18, who come from financially and socially challenged backgrounds. Through residential and community-based programs, BHGH offers the comprehensive services and support systems that nurture the self-confidence, discipline and focus required to test children's academic limits and allow them to achieve dreams they once thought were out of their reach—including graduating from college.
"Our scholars and their families rarely have the opportunity to leave the city and experience the beauty of Arizona's natural environment," says Mia Foster, community program manager with BHGH-AZ. "We work to provide scholars with a wide range of experiences that help them to cultivate their particular interests and foster a sense of responsibility toward their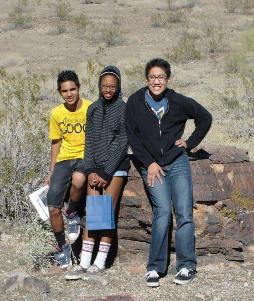 community. Through a partnership with Arizona Wilderness Coalition, BHGH scholars will spend time developing an appreciation for open spaces, their connection to the natural environment, and their role as stewards of that environment."
Saddle Mountain, in particular, is proposed for new wilderness designation in the Sonoran Desert Heritage conservation initiative, a broadly-supported citizen effort to protect public lands in western Maricopa County. The proposal aims to safeguard approximately 750,000 acres of land using wilderness and national conservation area designations; the protections require an act of Congress.
"We chose Saddle Mountain for a variety of reasons, most notably because it's a perfect example of healthy Sonoran Desert land just on the outskirts of a dense metropolitan area," says Dowdy. "We want these kids to understand how accessible our public lands are and how beneficial they are to our well-being and our communities."
The Arizona Wilderness Coalition has engaged volunteers since 1979 to take care of Arizona's wilderness lands and waters. The organization operates a Wilderness Stewardship Program out of its Prescott office, which focuses on helping the U.S. Forest Service complete much-needed backcountry work through volunteer weekend excursions. No experience is necessary, and many of the trips are suitable for teenage youth. More at www.azwild.org.
######
The Arizona Wilderness Coalition's mission is to permanently protect and restore wilderness and other wild lands and waters in Arizona for the enjoyment of all citizens and to ensure that Arizona's native plants and animals have a lasting home in wild nature. We do this by coordinating and conducting inventories, educating citizens about these lands, enlisting community support, and advocating for their lasting protection. www.azwild.org
Boys Hope Girls Hope helps academically capable and motivated children-in-need to meet their full potential and become men and women for others by providing value centered, family like homes, opportunities and education through college. www.bhghaz.org