RESOURCES
Agua Fria National Monument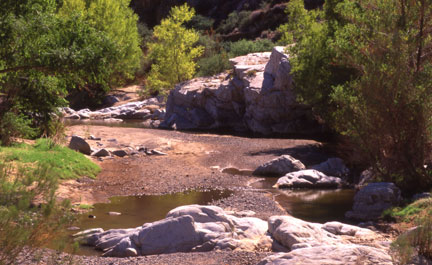 The Arizona Wilderness Coalition has made two Wilderness Study Area (WSA) proposals for the Agua Fria National Monument: Perry Mesa and the Agua Fria River Canyon. The Perry Mesa unit is located about 40 miles north of Phoenix on the east side of I-17 and the Canyon is located about 40 miles north of Phoenix on the east side of I-17.
Wilderness Protection
The Arizona Wilderness Coalition (AWC) recommends 28,667 acres in two contiguous Units for consideration as Wilderness Study Areas in the Agua Fria National Monument. Our proposals allow for the continued use and maintenance of facilities related to the management of livestock grazing, state game and fish administered wildlife waters, and mining operations under the provisions of the Wilderness Act in sections 4 (c) and (d). The AWC proposals make up less than 40% of the total monument, allowing for many other management areas within the monument.
Species Diversity
Perry Mesa is excellent example of a semi-desert grassland ecosystem supporting pronghorn antelope, deer, and elk. The semi-desert grassland is one of Central Arizona's most endangered ecosystems due to rapid urban development in these flat grasslands. The thick riparian vegetation of willows and cottonwoods that is present in some places along the 12-mile proposed river corridor in the Canyon nurtures many bird species, such as wintering bald eagles, zone tailed hawks, and many other migrating birds.
Archaeological Significance
The Agua Fria River Canyon and the surrounding mesas contain numerous archeological sites that represent a time when hundreds or even thousands of people inhabited the now sparsely populated region. The archeological resources of the Perry Mesa area are one of the primary reasons for the creation of the Agua Fria National Monument as a whole. The mesa alone contains more than 450 documented archeological sites and six major site clusters with more than 100 ground-floor rooms. A 1995 report published by the Arizona Archaeological Society states that "the Perry Mesa region is significant archaeologically because the sites represent a complete Classic period community situated within a bounded environment."
Geological Significance
The existence of Tertiary basalt flows, from what is thought to be a shield volcano named Joes Hill just east of the Agua Fria River canyon on top of Perry Mesa, and the underlying Precambrian rocks mark an unconformity of at least 1 billion years (Ahlstrom and Roberts 1995). The Tertiary basalt flows are layered and demonstrate various eruptions and stages of volcanism of the area. This geologic diversity plays a large role in the cultural prehistory of the Agua Fria River and the Perry Mesa region, making the outstanding wilderness values of the geology, ecology, cultural history, and the educational potential inseparable.