November 2, 2011
Wilderness Stewards Partner with Forest Service to Repair Popular Trail Damaged by Wallow Fire
Volunteers to get up-close look at Bear Wallow Wilderness since fire, learn about the role of fire in forest ecology.
Contacts:
Sam Frank, AWC Central Arizona Director, 928-717-6076
Don Hoffman, White Mountain Conservation League, 928-339-4426
Matt Skroch, AWC Executive Director, 520-326-4300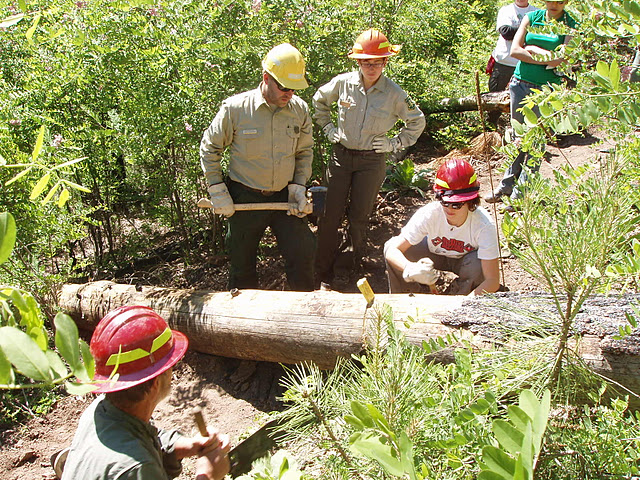 ALPINE—Although the embers have cooled, the scars from this summer's Bear Wallow Fire in eastern Arizona run deep—both in the human communities it seared and within the Apache-Sitgreaves National Forest, where wildlife and vegetation are trying to recover.
Volunteers with the Arizona Wilderness Coalition (AWC) and the White Mountain Conservation League (WMCL) are partnering with the U.S. Forest Service to tackle restoration of one of the Bear Wallow Wilderness area's most popular trails—around the very site where the fire allegedly started. On Saturday, November 5th, a crew of volunteers will work with AWC and WMCL staff to begin rebuilding and re-vegetating the Bear Wallow Trail—no experience necessary. The public can register for this trip and others, and find out more about AWC's Wilderness Stewards Program at www.azwild.org.
"This is a chance for people to come out to the Bear Wallow Wilderness—which they may have only heard about on the news this summer—and see for themselves not only the damage that the fire caused, but also the tremendous opportunity we have to work together to bring this ecosystem back to a healthy, vibrant forest," says Sam Frank, central Arizona director with the Arizona Wilderness Coalition and leader of the organization's Wilderness Stewardship Program based in Prescott.
Volunteers will also have the chance to learn about the natural and unnatural effects of fire in forest ecosystems. Don Hoffman, retired Wilderness Program Manager on the Apache-Sitgreaves National Forest and longtime wilderness advocate, will discuss some of the progressive fire policies embraced by the Apache Sitgreaves that have encouraged fire to play a more natural role in areas managed as wilderness.
"It's very unfortunate that the campfire that ignited the Wallow Fire was permitted during such explosives fire conditions," says Hoffman. "However, while the negative impacts of the fire are currently quite shocking, the natural recovery processes are already becoming evident. More than ever, the Wallow Fire provides an opportunity to allow natural fire to fulfill its role in maintaining dynamic and healthy ecosystems within the vast wilderness and roadless lands on the Apache Sitgreaves."
AWC's Wilderness Stewardship Program was launched earlier this year on the Prescott National Forest with a grant from the National Forest Foundation and the Resource Advisory Council of the Prescott NF. The goal of the program is to get Arizona citizens out into wild areas to experience firsthand the role of federally designated wilderness in providing critical ecosystem services like watershed protection and wildlife habitat. After a brief training, volunteers get actively involved in maintaining the accessibility and health of these areas through trail work and monitoring of non-native species on field trips coordinated by AWC.
In a year's time, since June of 2010, volunteers in AWC's Wilderness Stewardship program have logged more than 1,400 hours on the ground—with a service value of approximately $31,200. AWC has worked within 6 wilderness areas over 3 national forests so far.
"Our stewardship program is perhaps the first of its kind to really connect people in a visceral way with the fundamental beauty and necessity of Arizona's wilderness areas," says Matt Skroch, AWC's executive director based in Tucson. "One of the best ways we can start taking better care of our forests, deserts, rivers, and other backcountry areas is to get people back out into them, so they can build an appreciation for what wild places give us in terms of clean air, water, and recreational opportunities."
AWC has plans to replicate the program on all of Arizona's national forests, building a strong network of stewards that work in teams to monitor and maintain trails and help the U.S. Forest Service stay on top of invasive species, trail degradation, and recreational site upkeep.
*********
The Arizona Wilderness Coalition's mission is to permanently protect and restore wilderness and other wild lands and waters in Arizona for the enjoyment of all citizens and
to ensure that Arizona's native plants and animals have a lasting home in wild nature. www.azwild.org
The White Mountain Conservation League is a local action group dedicated to sustaining and enhancing Arizona's White Mountain ecosystems and communities. www.azwmcl.org
Photos, top to bottom:
Crosscut saw use in Pine Mountain Wilderness, courtesy Sam Frank
AWC member and volunteer John Watkins performs some trail maintenance in Juniper Mesa Wilderness, courtesy Sam Frank