Summer 2020 Youth Conservation Corps Program
UPDATE: Due to COVID-19, the 2020 YCC program has been cancelled and we are planning to hold it in the summer of 2021 instead. If you have already applied, we will reach out to you next year to see if you're still interested in participating, and if you didn't get a chance to apply yet this year, please check back in the spring of 2021 for more information!
---
Wild Arizona, in partnership with the Coronado National Forest's Douglas Ranger District, is announcing its six-week summer residential Youth Conservation Corps program for 2020 and is seeking adult crew leaders and high school-aged crew members.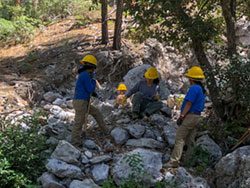 Crew Leaders
Do you have a passion for teaching the next generation of young conservationists in the backcountry? Are you currently enrolled in an outdoor education program or have experience working with diverse groups of youth between the ages of 15 and 18?
• Read the full job announcement and send in your resume before April 1, 2020!
Crew Members
Are you or your child a high school student who enjoys the outdoors and conservation and would like to get paid to work and live together with a crew of similarly aged people, camping and backpacking to remote areas in the Chiricahua Mountains of southeast Arizona and learning the skills required to maintain and repair hiking trails?
• Read the full job announcement.
• Fill out this form to apply before April 1, 2020!
Questions?
If you have any questions, please don't hesitate to contact brian@azwild.org.