September 4, 2013
White House Proclaims September "National Wilderness Month"
Proclamation reminds Americans to celebrate their special wild places, get outdoors to enjoy them, and take action to preserve unique wilderness heritage.
Contacts: Kate Mackay, Deputy Director / 602-571-2603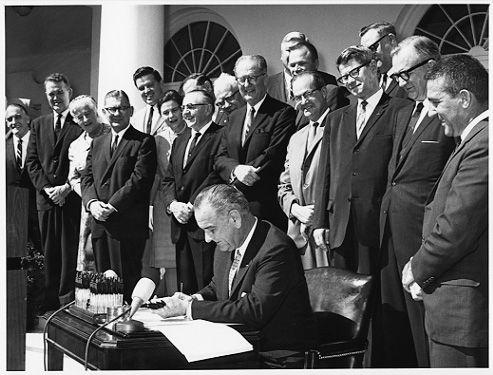 PHOENIX –As the nation gears up for the 50th anniversary of the signing of the Wilderness Act in 2014, President Obama issued a proclamation marking September as National Wilderness Month, to remind Americans of the lasting natural and cultural heritage protected by the National Wilderness Preservation System. The Wilderness Act was signed by President Lyndon Johnson, in the Rose Garden of the White House, on September 3, 1964.
The proclamation states, in part:
As natural habitats for diverse wildlife; as destinations for family camping trips; and as venues for hiking, hunting, and fishing, America's wilderness landscapes hold boundless opportunities to discover and explore. They provide immense value to our Nation -- in shared experiences and as an integral part of our economy. Our iconic wilderness areas draw tourists from across the country and around the world, bolstering local businesses and supporting American jobs.
… I invite all Americans to visit and enjoy our wilderness areas, to learn about their vast history, and to aid in the protection of our precious national treasures.
"Arizona is a state rich in wilderness legacy—the architecture of which was created under the foresight and guidance of Stewart Udall and his brother Mo, both of whom loved Arizona's wild places and worked hard to ensure that future generations of Arizonans could appreciate and enjoy our state's amazing natural assets," says Les Corey, executive director with the Arizona Wilderness Coalition (AWC), based in Tucson. "We commend the Obama Administration for acknowledging such a massive contribution to America's conservation history, and look forward to celebrating the 50th anniversary of the Wilderness Act across Arizona in 2014."
Wilderness designation is the highest level of protection available for federal public lands. There are currently 90 different wilderness areas as part of the National Wilderness Preservation System (NWPS) in Arizona, managed by different federal land management agencies such as the U.S. Forest Service, the Bureau of Land Management, the National Park Service, and the U.S. Fish and Wildlife Service.
The Wilderness Act enables citizens to advocate for new wilderness areas being added to the NWPS, and the legislative process is rigorous to ensure that all citizens and local stakeholders weigh in with what areas deserve protection and where boundaries should be drawn. The process can sometimes take 5 years or more to see passage through Congress. Locally, citizens have been working for more than 7 years on the Sonoran Desert Heritage campaign—an effort to protect BLM public lands in western Maricopa County through designations like wilderness and national conservation areas. Arizona Rep. Raúl Grijalva (D-Dist 3) introduced legislation for the effort in April of this year.
"The Arizona Wilderness Coalition was born in 1979 by volunteers working toward Arizona's two statewide bills with Rep. Mo Udall, Senator Barry Goldwater, former Rep. John McCain, and many others. Under Rep. Udall's leadership, the delegation took the time to listen to local concerns and bring a collaborative, bi-partisan approach to conservation of Arizona's best places," says Kate Mackay, deputy director with AWC in Phoenix. "We continue that legacy throughout the organization today and believe strongly that wilderness designation should be a locally driven, citizen supported effort. That's something we can all celebrate."
*****