"When we strive to pass wilderness legislation, what we are really engaged in is democracy at work."
- Bart Koehler
Read an important message about patriotism and the purpose of wilderness from our friends at the Wilderness Support Center in Colorado.
WHAT IS WILDERNESS?
Wilderness need not be created; it already exists. We merely need to recognize its significance and act to protect it...in Arizona and around the world.
Wilderness Defined
Wilderness is an area of undeveloped federal land that appears "to have been affected primarily by the forces of nature, with the imprints of mans' work substantially unnoticeable," according to the Wilderness Act of 1964. Unlike national parks, wildlife refuges, or monuments, Wilderness designation from Congress provides the highest level of natural resource protection available in the world. Any portion of a park, refuge, or monument can be designated as Wilderness. Potential wilderness includes those roadless and wild areas that we have yet to crisscross with roads and alter with development. Wilderness is our antidote to the sprawl that consumes our open space.
Hunting, fishing, hiking, backpacking, photography, rafting, canoeing, bird watching — all traditional uses that rely on non-mechanized access — are allowed in wilderness. Wheel chair access is allowed where terrain permits.
Activities and facilities such as commercial enterprises, road building, use of motorized vehicles and equipment, power lines, and other permanent structures are prohibited in Wilderness.
Only Congress can designate a wilderness, but these areas are managed for the public by various federal agencies, often with input from state agencies, on ecological and archaeological values of a wilderness area. Up to 3 million acres of lands managed by the Bureau of Land Management (BLM), 2 million acres of lands managed by the U.S. Forest Service, and more than 2 million acres of lands managed by the National Park Service (NPS) qualify for wilderness designation in Arizona but have yet to be approved by Congress.
Wilderness in Arizona
Download a copy of the Arizona Wilderness Area Map & Checklist

Quick Facts

Total State Acres: 72,731,000
State Wilderness Acres: 4,528,913
Wilderness Areas: 90
Largest Wilderness: Cabeza Prieta Wilderness
Smallest Wilderness: Baboquivari Peak Wilderness
Managing Agencies: Bureau of Land Management (BLM), National Park Service (NPS), and U.S. Forest Service (USFS)
*Data Source: Wilderness Net

Wilderness adds tremendous value to the quality of life in Arizona, drawing millions in tourist revenue and protecting our sweeping canyon, forest, mountain, and desert vistas from sprawling development.

Wilderness protects some of Arizona's critical watersheds from contamination and depletion. Without the interference of roads and motorized disturbances, Wilderness provides ideal habitat and migration corridors for some of the Southwest's most endangered animals, birds, and plants, where they can thrive without competition from non-native species. In the simplest sense, wilderness provides wild places for wild things to be wild.




Wilderness safeguards archaeological artifacts and cultural history icons from disturbance, discourages vandalism, and preserves the aura and peace of cultural sites found extensively throughout Arizona.

And wilderness benefits a broad range of human uses. Because it protects wildlife habitat, wilderness draws wildlife watchers, fisherman, hunters, and hikers. In our noisy, busy world, we can rely on wilderness for soothing scenery and solitude, education, and spiritual renewal.



Who supports Wilderness in Arizona?
In an analysis of 2,219 public comments submitted in the first phase of management planning for the new Arizona Strip national monuments, 85 percent of respondents want to limit motorized recreation at Grand Canyon-Parashant and Vermilion Cliffs to protect the wild, rugged character of the Strip.

In a 2002 poll by Bendixen & Associates, 75 percent of Hispanic voters in the state indicated that they favor proposals to expand wilderness in Arizona.
In a 2005 poll, 76 percent of voters supported a proposal to designate the Tumacacori Highlands--the state's largest remaining Forest Service roadless area--as wilderness, with 61 percent of those voters strongly in favor of the designation.
Wilderness areas come in many shapes and sizes and there are many opportunities for a variety of socio-economic populations, including the handicapped, to enjoy wilderness. Wilderness truly is our common ground.
Why does Arizona need more Wilderness?
Of the 31 million acres of public land in Arizona, only 4.5 million acres have been protected as wilderness. It sounds like a generous amount of protected acreage,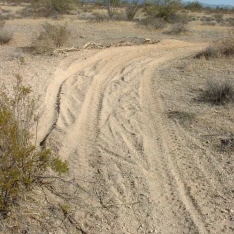 but that figure amounts to only about 6% of the state.
The population of Arizona has tripled since 1970. The once open areas that connected our wild lands are filling in with development in the form of shopping malls, subdivisions, golf courses, and resorts. Today, Arizona is the second fastest growing state in the nation, after Nevada.
All-terrain vehicles, dirt bikes, and other off-road machines are probing deeper and deeper into our wild places, tearing up the landscape, fracturing endangered wildlife populations, and eradicating native vegetation. As it stands now, there are already more than 28,000 miles of roads on Arizona's national forests.
Mining, logging, drilling, and road building continue to chip away at Arizona's irreplaceable wild lands.